PROHASHING Referral Drive Competition
Share your love of PROHASHING, and work with your team for the chance to earn a bigger reward this month!
Starting on August 21st and ending on September 21st, we will be holding a referral drive competition. Referral rewards will work differently during this month-long period. All eligible PROHASHING miners (those who have earned at least $0.01 and at most $10,000 in the last 30 days) will be split into 3 teams. During the referral drive competition, the 0.20% referral rewards earned will go into a pot. At the end of the competition, the team that has done the most work wins.
The winning team will get 80% of the pot, and the losing teams will each get a 10% consolation prize at the end of the month-long competition. The winnings will be distributed among the teams based on work submitted.
Where can I check on my team's progress?
The Referral Drive Competition stats will be available at the top of your PROHASHING dashboard for the duration of the competition. When you land on your dashboard, you'll be able to see the Competition countdown, as well as your contribution to your team and which team you're on.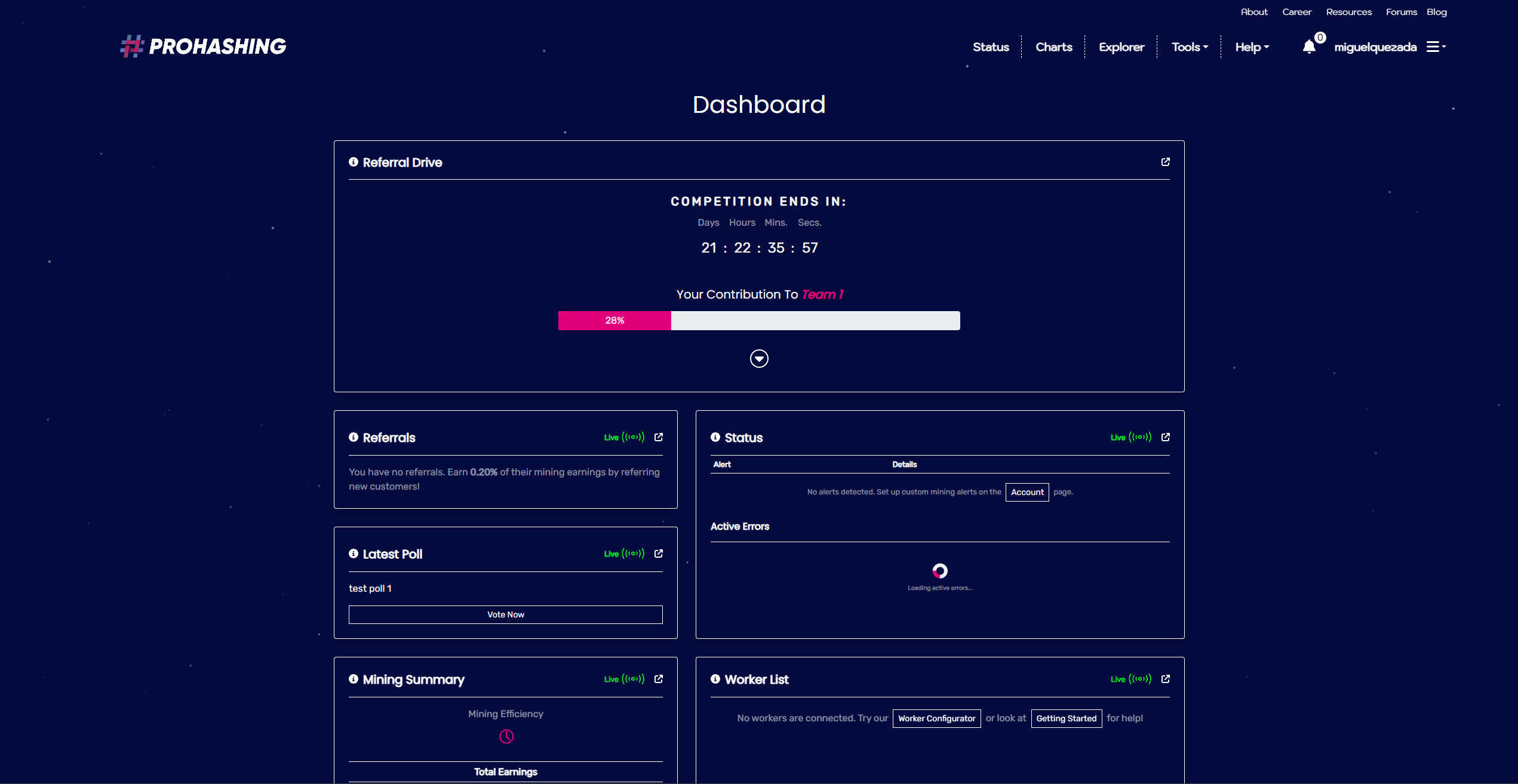 You can expand the Competition box within your dashboard to see more competition stats.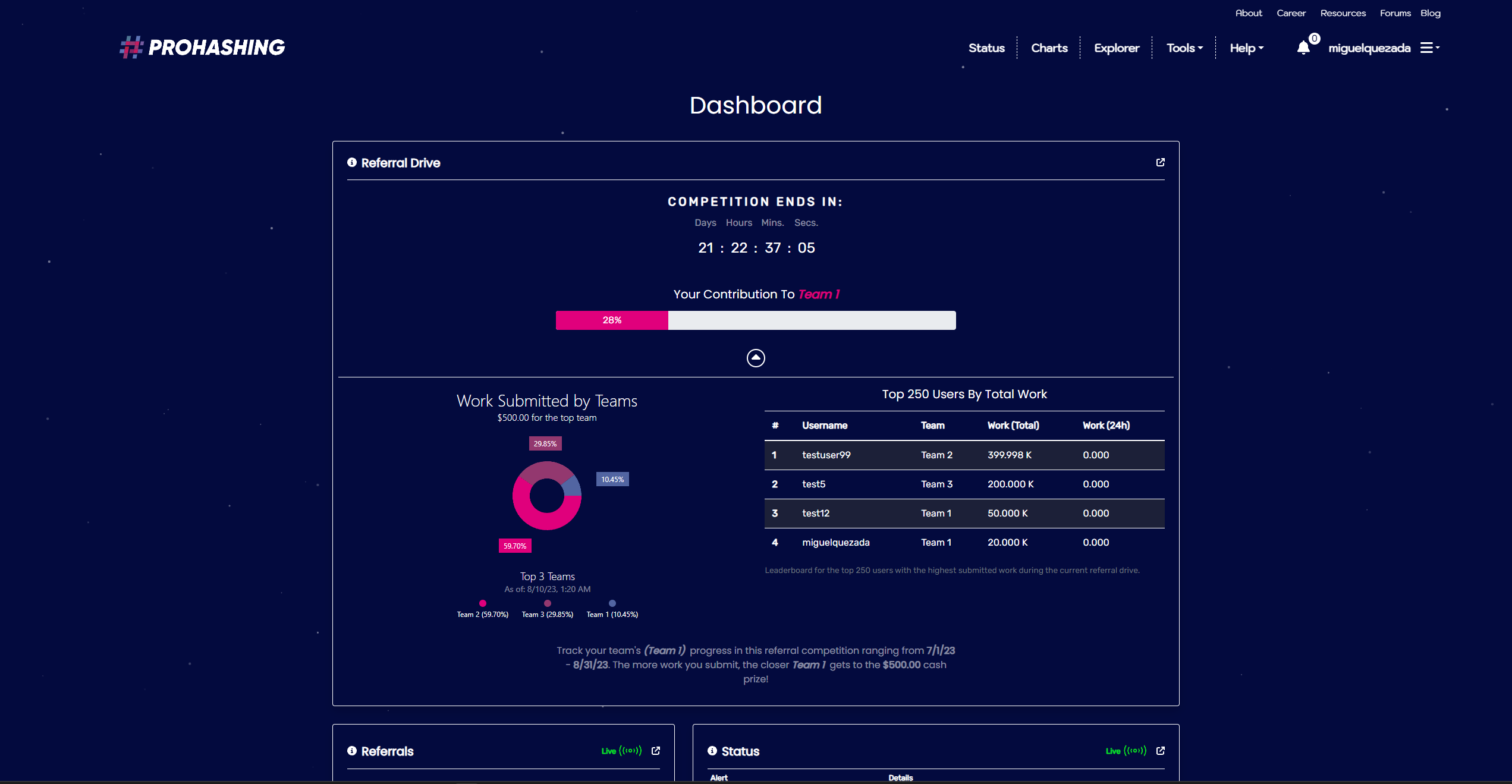 The expanded Competition box, as you can see zoomed in more here, will show you the work submitted by the three teams, broken down by percentages so that you can see where your team ranks throughout the competition, as well as the User Leaderboard by Total Work.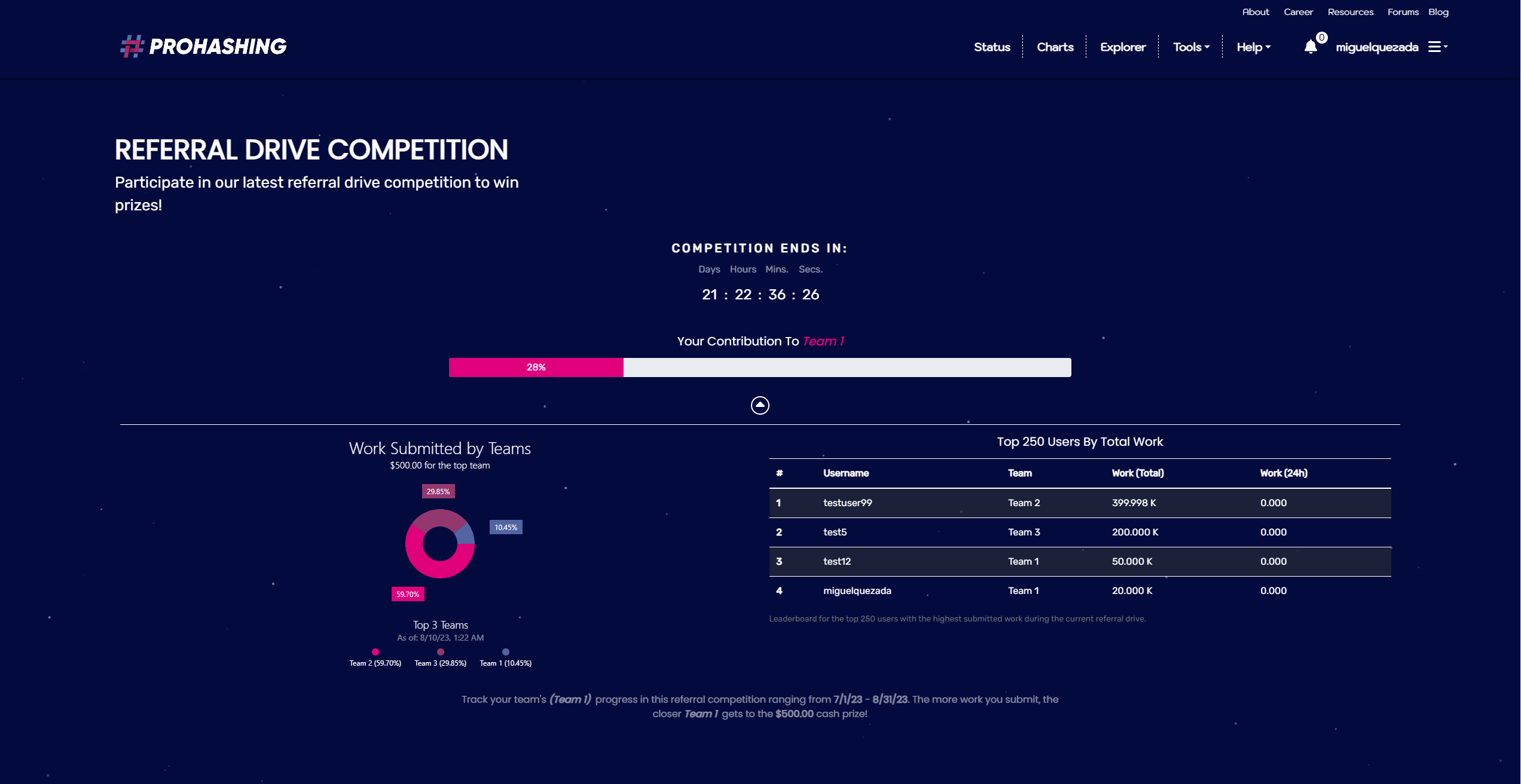 How can I help my team gain an edge?
Any miners you refer who join PROHASHING and start mining will automatically be added to your team, which means all work they complete during the Referral Drive Competition will go toward your team's totals!
What are some ways I can refer people to mine at PROHASHING and join my team?
Anywhere you can post a link is a good platform to refer cryptominers to join the PROHASHING community. Go to the Referral Program page in your account pages by either using the hamburger menu and clicking on referrals or going straight to the Referrals Page here.
There are further details and instructions regarding joining the Referral Program in our documentation here. Once you've set up your Referral Group, you can pass on your Referrer Code to give to friends or use the Copy Referral Link button to copy it as a link and include it in social media posts, Youtube video details, emails, texts, basically whatever kind of print communication you can think of.
If you have questions about the competition, please feel free to click on the Support button in the footer of the PROHASHING website or email us at [email protected].
Good luck to all teams, and, "May the odds be ever in your favor!"*
Litecoin Halving 2023
Crypto Current Events
On August 2, Litecoin went through its most recent Halving, an event which occurs once about every 4 years. During a halving, the reward to the miners for any hashing work they've done is halved. In this case, the reward was halved from 12.5 Litecoin to 6.25 Litecoin. The goal of the Halvings is to keep Litecoin "inflation-proof". It's important to note, that while Litecoin's value has dropped, at least temporarily, due to the halving, PROHASHING's Scrypt mining profitability has mainly held strong due to the availability of Proswitching, which allows PROHASHING miners to be switched over to a more profitable coin when one is available, and Merge mining, which allows PROHASHING miners to earn a little bit of a secondary coin, such as Dogecoin, for the in addition to the earnings in the primary coin being mined, while still only requiring the same amount of work.
Reminders:
Trusted Mining Program Deactivation
Since low luck miners seem to be a thing of the past, our Trusted Mining program, which existed to help reduce the impact of low luck miners on our pool, was no longer needed.
The PROHASHING Trusted Mining program was deactivated on August 1, in an effort to increase your privacy and cut costs that are no longer necessary.
Reminder: If you've been a PROHASHING Trusted Miner, you are still be able to see the historical earnings data related to this program by going to your account page and clicking on the "Trusted Mining" tab. Legacy members of the Trusted Mining program are also still able to request 2fa resets.
COMING SOON: PROHASHING Loyalty Program
Miners who point their workers toward PROHASHING on a daily basis deserve to be rewarded for their loyalty. We are implementing a loyalty program that will reward PROHASHING miners for meeting their daily quota.
Incentives include (but are not limited to):
Temporary fee reductions
Temporary bonuses to earnings
Special roles on our Discord server
Join the Discussion
Join our amazing community of fellow miners by visiting our forums page or by joining our Discord server!